I was looking over some friend's and family's blogs today and was suprised when I flipped back to my own that it's been nearly a month since I posted anything new! Man am I boring! May was a very busy month for me, but also a very good month. I finished up spring semester at UNLV with final projects and tests galore and was able to breathe a sigh of relief once my final grades came in. I GOT THE BEST GPA OF MY ENTIRE LIFE!! Drumroll please... I got 4 A's, and one A-, which equals out to a 3.94! I guess leaving all of my distractions (like my guitar, sewing machine, crochet/knitting stuff, scrapbook things, etc.) at home in Colorado really paid off! Yes, I missed them, but opted to leave them there again when I visited home last weekend in hopes I can keep up the good work in school this fall.
I got to take a trip out to Los Angeles on the 16th to see my brother Diego's graduation from Southwestern Law School, and I really enjoyed the time with my parents, brother and his wife Mariela.
We wandered up and down Venice Beach, ate at a wonderful authentic Argentine restaurant (it was just like the food from my mission in Uruguay - and I even found my favorite brand of Alfajores!), and just relaxed!
There always seems to be new and fun things to see and do out there... like visit the store that sells hundreds of brands of sodapop, including ones they don't bottle anymore! I broke my self-imposed "no soda" rule for the weekend and had... well, let's say several!
I was also pleased to finish off the weekend by dying my hair dark brown, getting a henna tatoo (it's already gone), and giving myself a nice sunburn. What a good trip!
I flew back home on the 19th, and the next day was the date I had chosen to give myself an early birthday present and went to see Cher's show at Caesar's Palace.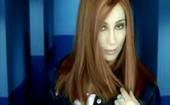 I budgeted my money well in preparation for this special event, and was able to get a VERY good seat, and still not feel guilty about spending so much money on the show. I loved it! What better day to see Cher's show than on her birthday?? I have now seen her in concert/show 5 times, and hope to see her again, but probably not for a while. I even found an awesome store next to the theatre inside the casino that sells a plethora of Cher merchandise, and plan to revisit it a few more times this year. Yay for t-shirts!
I once again packed up my bags and headed out of town on Saturday the 24th to go to Colorado. I realized sometime during the 11 hour drive that I had entered the MTC exactly 2 years ago! I couldn't believe it! While in Colorado I got to spend a lot of time with my sister Stephanie and her family; I took care of her three girls while she was still in the hospital after having her baby BOY! We were all so excited to have him come home - he's a cutie!
Yesterday (May 31st) all of the Elders that started the mission with me were scheduled to arrive home.
It's kind of a sad but happy day all at the same time! Sad because the numbers of missionaries that I still know out in the field are dwindling, but happy because I know they all served a great mission and finished what they were sent out to do.